Technical Training Australia is a dedicated Electrical Licensing School, which prepares not only apprentices for their Class A Licensing exams, but also, for mature age 'B Grade' Electricians and regional electrical workers.
Honest, Passionate, Relevant & Safe Electrical Training
Our goal, and our accountability, is to get all electrical apprentices, and Class L licence holders qualified. We have successfully qualified many apprentices, who have failed their exams multiple times. My reward, and satisfaction, is seeing apprentices and mature age electricians achieve their personal best.
At Technical Training Australia, once you qualify, our professional development programs keep you informed and trained up on the latest, in technology, and motor control. We have a dedicated electric motor school, so you can be confident in electric motors, variable speed drives and fault finding control circuits. This is a hands-on school, where you bring your hand tools and test equipment and learn the how-to of Electric Motors.
We also offer a free mentoring service for all Electricians, no matter what the issues are. Also, we offer a technical information and electrical project design and verification service at TTA.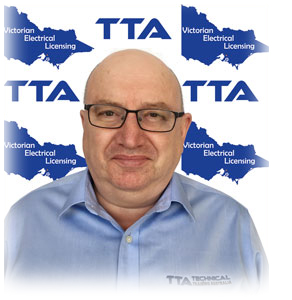 Message from the Director
Technical Training Australia was formed to meet the training need of qualifying apprentices for their Victorian 'A Grade' Electrician's Licence. Through my 35+ years experience, as an electrician, apprentice trainer, assessor and a business owner, I wanted to pass on my knowledge and skills to the new generation of electricians.
It's all very well to have an idea, but it takes many years of hard work, and disappointments, to make a successful business out of your passion. Technical Training Australia was formed on the kitchen table at home, and has since progressed to large training rooms. Together we have qualified many apprentices, who would have not done so, through traditional training.
There are many reasons why electrical apprentices are not successful at their LEA exams. But, no matter what the obstacles are, we can get them qualified, if the apprentice works with us, and sticks with us, through the lows of failing and the highs of passing their licensing exams.
However, our training is not to simply pass the exams. Our training is curiosity driven, about their skills as an electrician. Through our teaching techniques, we allow the electrician to become confident in their knowledge and skills. This comes from a well documented training plan for each apprentice, coupled with ongoing mentoring, which allows the learner to take charge of their own learning, by their own curiosity. You know you are being successful when apprentices ask for homework, to satisfy their interest in being an electrician. However their interests are reborn, by providing a hands on program, that allows the student to drive their own curiosity in their electrical pracs.
Our Motor School has been purpose built for all electricians who have an interest in their own personal development. Together with LET, LEP, SWP and Disconnect Reconnect (REL) training rooms, this facility has the environment to allow an electrical apprentices and electricians to be their personal best. The training environment is practical, hands on, training for technical learners. Theory can only take you so far. At Technical Training Australia, we base all our learning, by doing it. This is how electricians learn; they learn by doing.
This training method is supported with experienced trainers and small class sizes. We don't just want the electrician to pass a written test; they need to demonstrate their understanding, by showing our trainers/mentors how they can perform electrical pracs, safely. At Technical Training Australia, we want the electrician to be prepared for workplace reality. An electrician can be safe at work, with the right knowledge, skills and understanding of industrial motor control.
At Technical Training Australia, we can't change the world. We can only do it, one electrician at a time. We invite you to experience our training so all electricians can excel at their skills, whilst doing it safely through a demonstrated practice of their acquired skills.
Andrew Wilson