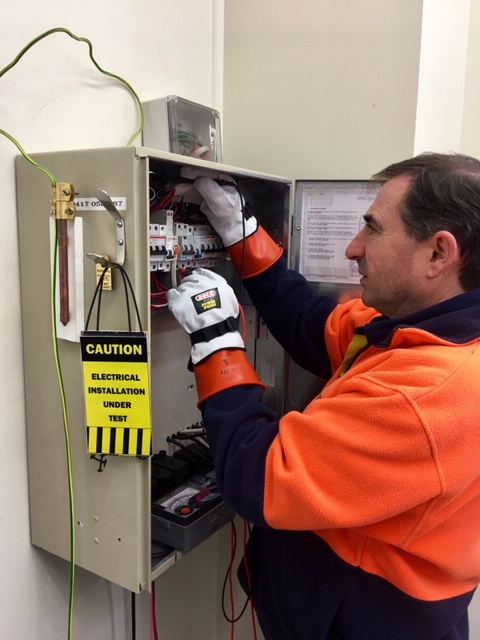 G Class Licensed Electrical Inspectors (LEI) Training
---
The 'G Class' Electrician's Licence entitles the licence holder to carry out electrical inspection work in Victoria.
The Licensed Electrical Inspectors (LEI) assessment is a requirement for experienced electricians who are looking to become Energy Safe Victoria (ESV) G Class Electrical Inspectors.
TTA offers training for those preparing to sit their LEI assessments.
Our teaching style is 1:1, providing each student with individualised learning feedback.
Students will train in the three components assessed in the LEI assessment:
G Class Theory
G Class Practical
G Class Safe Approach
Rant from the Director
As an ESV Electrical Inspector, you can get off the tools and find unlimited work; it's the electrician's ideal retirement plan.
As experienced electricians, we've encountered many unsafe electrical installations. Being an inspector, you can apply your valuable industry experience to fix these hazards before an accident occurs.
But just practical experience isn't enough. An inspector must be fully competent with the Wiring Rules, Regulations, Construction and Demolition Rules, the Electrical Safety Act and the ESV Defects List.
So what are the expectations of the LEI exam?
A thorough knowledge of AS/NZS 3000. ESV provides every candidate with a set of clean, unmarked, standards. This means being able find wiring rules very quickly and quote significant rules from memory.
A thorough understanding of an inspector's obligations, as per the Electrical Safety Installation Regulations.
An understanding of the responsibilities that an ESV Inspector must uphold, despite the economic pressure that may be placed on an inspector, by RECs, employers or your own financial commitments.
A very thorough understanding of doing the right thing by being the safeguard of the Victorian community in their personal electrical safety.
You must be guided by a code of ethics, for your reputation, in case unfounded allegations are made against you in your role as an ESV inspector.
Understanding of the penalties against you if you use your role as an ESV Inspector to take shortcuts in your endorsement of a safe electrical installation.
This course provides the knowledge required to sit the LEI Assessments.
Prerequisites
See the ESV website for the most up-to-date list of prerequisites required to sit the LEI assessments.
Materials
All materials available from TTA
Books:
AS/NZS 3000 Electrical installations "Wiring Rules"
AS/NZS 3001 Electrical installations – Transportable structures and vehicles including their site supplies
AS/NZS 3002 Electrical installations – Shows and carnivals
AS/NZS 3004.1 Electrical installations – Marinas and boats Part 1: Marinas
AS/NZS 3004.2 Electrical installations – Marinas and boats Part 2: Boat installations
AS/NZS 3008.1.1 Electrical installations - Selection of cables
AS/NZS 3010 Electrical installations – Generating sets
AS/NZS 3012 Electrical installations - Construction and demolition sites
AS/NZS 3013 Electrical installations – Classification of the fire and mechanical performance of wiring system elements
AS/NZS 3017 Electrical installations - Verification guidelines
AS/NZS 4777.1 Grid connection of energy systems via inverters Part 1: Installation requirements
AS/NZS4777.2 Grid connection of energy systems via inverters Part 2: Inverter requirements
AS/NZS 4836 Safe working on or near low-voltage electrical installations and equipment
AS/NZS 5033 Electrical installations – Installation and safety requirements for photovoltaic (PV) arrays
AS/NZS 5139 Electrical installations – Safety of battery systems for use with power conversion equipment
Authorised Electrical Safety (General) Regulations
Electricity Safety Act 1998 - No.25 of 1998
Victorian Electricity Distributors - Service & Installation Rules 2014 (Optional, Required in the field)
Equipment:
Kyoritsu Analogue Insulation Resistance & Continuity Tester 3132A model (IR Tester) + 6 spare batteries
Testing & Tools Kit: available from TTA (ask the at the TTA office for full list)
Stationery:
Casio fx-82AU PLUS II calculator
Stationery Kit: available from TTA (ask the at the TTA office for full list)
Clothing and PPE
All students are required to wear the following PPE:
Closed shoes and be dressed for work
Session Dates & Times
Dates
Start your training or course at any time.
We train almost every day of the year.
Please contact us for bookings.
Times
We run 3 sessions a day. Some classes offered only in particular sessions.
Session Times:
(M) Morning:
9am
-
12pm
(A) Afternoon:
1pm
-
4pm
(E) Evening:
4pm
-
7pm
Tutoring / Training Options
Pay-As-You-Go Tuition
Class G Theory
Session Length:
3
hours
Class Size (typ.):
2-6
students / instructor
Availability:
M/A/E
Courses
Our Courses are structured to ensure that all relevant content is thoroughly covered.
They are discounted versus pay-as-you-go tuition.
We offer free practice sessions to our students doing our LEI courses.
For other session times, specialised arrangements are available to regional electricians wishing to study full time. Call the office to discuss your training requirements
Class G Theory
Course Duration:
20
sessions
Session Length:
4
hours
Standard Pace:
2
sessions / week
Class Size (typ.):
4-6
students / instructor
Availability:
Tuesdays and Thursdays, 3-7pm
Class G Practical
Safe Approach
Remote Learning
Do you reside more than 100kms from Melbourne CBD? You may qualify for TTA's regional training program.
TTA posts you home study packs and trainers are available on email and skype/face time calls. Attend classroom training just before your assessment.
Call the office for more info.